Are you a supply chain professional who negotiates contracts to purchase or to supply goods and services?
Is it time to add some new contract negotiation tools to your tool kit?
Do you need to take your contract negotiation skills to the next level?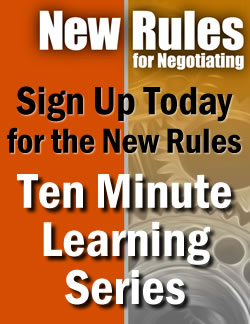 New Rules for Negotiating Ten Minute Learning series is a short but comprehensive series of contract negotiation webinars specifically designed for people who negotiate complex customer/supplier agreements. The webinars are based on materials covered in my corporate training sessions and in my New Rules for Negotiating corporate training manuals.
Sign Up for the New Rules Webinar Series
New Rules for Negotiating Ten Minute Learning series webinars are designed to give you a fresh perspective to:
Understand how to better negotiate business related T&C's. By business related T&C's I am referring to those things that are tied to the Statements of Work, metrics, reporting, price, etc.
Gain clarity on how to obtain supplier performance through a well-crafted contract. There is a direct correlation between what the contract says and what people do.
Tackle the tough negotiations by giving you my personal advice. I've been negotiating agreements for more than 25 years and I'll share personal, recent, real-life examples from my coaching and consulting practice with you.
Join me as I help you implement contract, procurement and sales' best practices. Sign up now to get the link to the next learning session. These learning sessions are truly worth your time and effort. Even though there is no cost for these learning sessions, I promise not to send junk, spam or other unwanted emails—just the kind of information you need to do a better job.
Here's to your negotiation success!
Jeanette Nyden, J.D.
Sound Partnership Strategies, Inc.