3 Critical Tools for the Contract Negotiator's Toolbox!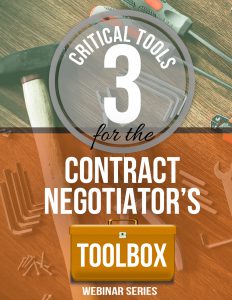 These webinars cover topics my clients consistently ask me to help them with:
Webinar #1: Understanding and using Total Cost of Ownership to drive value based decisions
Webinar #2: Getting the right KPI's and Metrics in place to drive supplier performance
Webinar #3: Setting up a Meaningful Governance structure to drive supplier performance
It doesn't matter whether you are procurement or sales, all contract negotiators need to use these three tools to effectively deliver value to your organization.

Three reasons to give me your time: these webinars are
Short: only 30 minutes of your time each webinar
Packed with content: you'll get real examples
Filled with practical techniques: you'll walk away with lists, tips, techniques and action plans to put the techniques in place
You'll get:
Email with a link to attend the live webinar (go head and share with your colleagues)
On the day of each webinar, the PDF version of the slides, and a link to the recording from the webinar
On October 5th, an eBook with the lists, tips and techniques combining the lessons from the webinars into an easy to use format.
These webinars will be held on:
Total Cost of Ownership: Sept. 14th at 10 am PT // 1 pm ET
KPI's and Metrics: Sept. 21st at 10 am PT // 1 pm ET
Meaningful Governance: Sept. 28th at 10 am PT // 1 pm ET
Cannot attend in person? No problem. Register anyway and I'll send you the link to the recorded webinars, the slides and on October 5th, an eBook with the lessons from the sessions.
Go ahead and sign up today; I don't know when I'll be offering a free webinar series again.