Business leaders tell me that they "know we can get more out of the relationship." The reality for many relationships, though, is that customers and suppliers fear they are stuck in a bad business relationship with each other.
Frustration becomes the dominant emotion of the relationship. Deep seated suspicions fester. People are always feeling frazzled by the other teams' actions. Performance suffers and people demand adherence to the contract terms. Maybe this is true for one of your relationships?
It doesn't have to be like this. I've worked with prosperous business relationships where people work across company boundaries to solve issues large and small. They have fruitful conversations that yield fresh approaches to long-standing operational challenges. They even like working together.
"The worst thing that can happen is that we change the contract and we don't change the behaviors to support the contract." L. R., Senior Vice President, Strategic Solutions.
The key to turning around under-performing customer/supplier relationships is "Getting to We," not just getting to "yes."
Just imagine what it would mean to your business if you could turn an under-performing relationship around? Many companies have. And, they are profiled in my third book, Getting to We: Negotiating Agreements for Highly Collaborative Relationships.
"A lot of people talk about collaboration but do just the opposite. Productive, collaborative conversations don't have to be an oxymoron. Your book made a lot of sense to me." J. B., Vice President Sales and Marketing.
Getting to We gives business people a very clear idea on how to develop highly collaborative, productive and creative relationships. The book has plenty of real life examples from companies who've turned relationships around, and it has questions to help guide you on your collaborative journey.
If you are ready to turn around an under-performing relationship, visit my How I Can Help page, or email me at [javascript protected email address] to make an appointment.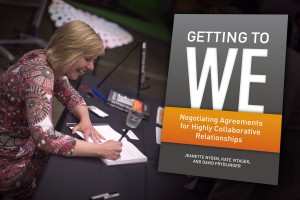 Jeanette Talks Collaboration: Listen now to one of my more interesting, funny, and engaging interviews about Getting to We. (Scroll down to the bottom of the ICOSA media page to the links to the audio recordings.)
This is not your typical interview! I talk about collaboration, about being a Chicago Public Defender and a host of other topics with Gayle Dendinger, founder and CEO of CAP Logistics.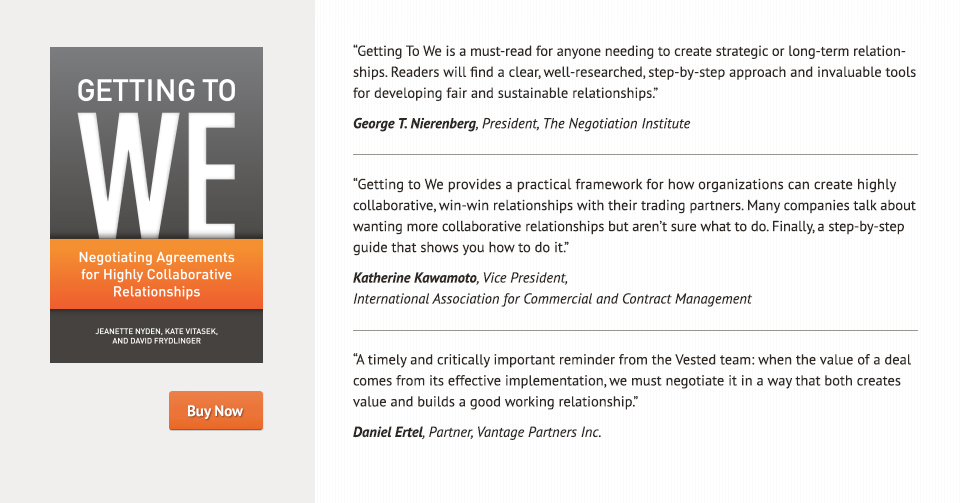 Getting to We FAQ's