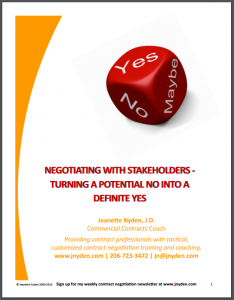 Can your team effectively negotiate with 4 or more stakeholders to reach an agreement? Stakeholder consensus is your biggest roadblock today. Hands down. Not money. Not the budget. Not timing. Getting four or more people to say yes is the key to getting your deal done.
If your team members have been derailed by a single internal stakeholder saying "no" you are not alone. Decision makers would rather make no decision than have disagreement. So, one "no" and the deal is dead even if the apparent decision maker says "yes".
This eBook will help you and your team quickly build a strategy to move internal stakeholders to say "yes". It is designed for sales professionals and procurement/sourcing professionals alike. Sign up today to get your FREE copy!