People who negotiate complex commercial contracts for a living need an enhanced skill set.
The Skills Gap
The skills gap is a result from complex risks due to increasing T&C complexity, to lengthening of term (duration), and to the strategic nature of the relationship's performance outcomes. While at the same time, your organization is probably losing top contracting talent due to retirement. And, the "simple" buys are now being automated leaving—as one client termed it—"the ugly".
These factors, amount others, leaves a gap in contracting talent.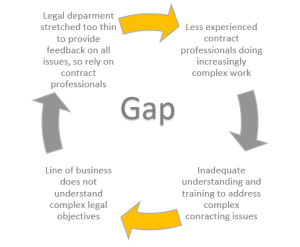 The Solution: An Enhanced Skill Set
Enhancing the skill set of contract professionals is the solution to better performance and outcome-based agreements. (Contract professionals go by many titles: contract negotiators, contract administrators, contract managers, account managers, vendor/supplier/customer managers, and technical SMEs).
Services  
My three services (web-based program, customized programs, and co-leading negotiations) are designed for business people who negotiate performance and outcome-based agreements.
"I need relevant negotiation coaching – someone who understands that I am not selling a car. I am building and maintaining relationships that last for years and years. They are complex and nuanced and typical training just doesn't fit with what I face each day."A.E., Account Director, pharma.
Contracting professionals know that the skills that helped them get every last dime out of a deal yesterday does not help them build and document a long-term customer/supplier relationship for the future.
Want to sample a training session? Check out my free New Rules for Negotiating 10 Minute Learning Sessions.  You'll get a 10 minute webinar, handouts and a chapter from my training manual.
Contract Negotiation Skills Training and Coaching
Tactical training addresses the day-to-day experiences your team faces. The training and coaching sessions are not theoretical, though there is substantial research to support best practices. Training sessions offer group discussions, one-on-one partner role playing, and individual drafting exercises.
Customized training combines your teams' contracts and common scenarios to fully explore negotiation topics and their application at work. By discussing your organization's template contracts, people immediately apply the concept to practice.
"It was a great class with a lot of interaction and conversation. The procurement team learned some valuable pieces and in particular, it changed the way they thought about negotiation." Training Director, on-line retail company.
Training and coaching sessions focus on the entire negotiation arc from planning to contract signing. By attending training as a team, people can learn tips and tricks from colleagues to quickly prepare for and address scenarios common to your organization.
For more detailed negotiation skills training information including project scope and deliverables, please visit the Contract Negotiation Skills Programs page.
"This coaching session has been stellar! I've wanted someone to walk me through the arguments the supplier is making (to some terms in the contract) so I could give them a reasoned response to support our terms. Thank you." P.A. Contract Administrator, public utility
A typical Contract Negotiation Skills training and coaching project includes:
Pre-training
Negotiation skills assessment with a findings report
Contract(s) review
One-on-one interviews
Training
Customized Contract Negotiations Skills Training session(s)
Company specific role play and case studies
New Rules for Negotiating training manual
Post-training
Individual coaching sessions
Web-based training (on-line learning)
Deal Coaching and Consulting
I support a team of negotiators (typically business leaders, purchasing or sales professionals, and the contract administrator) regarding a very specific contract, usually a complex performance based contract. By working with me, the team is more effective and efficient in their negotiations. I work with both buy-side and sell-side teams.
"Oh yeah the collaborative process has paid dividends. And, I am sure it will continue to pay dividends in the years to come. Is the contract perfect–no. Could it be better—yes. It is an evolution and as we work together at the management level we will continue to improve our relationship." C. S., Associate Vice President, global facilities management.
Three Former Projects
I. Talent Development
Issue: Attrition of top talent and a relatively inexperienced contracting team (buy-side) who were asked to negotiate increasingly complex contracts.
Services: Comprehensive training program including: on-line negotiation skills assessment, needs assessment report, several days of in person training, several web based training sessions, on-going one on one coaching and mentoring.
Outcomes: Increasing effectiveness to negotiate terms and conditions, metrics, and scorecards in complex goods and services contracts.
II. Leadership Development
Issue: Centralization of the purchasing function to support category management, requiring "buyers" to dramatically enhance their negotiation skills.
Services: Comprehensive training program including: on-line negotiation skills assessment, needs assessment report, several days of in person training, several web based training sessions, on-going one on one coaching and mentoring for the leadership team.
Outcomes: Increasing use of Should Cost Analysis and Total Landed Cost Analysis and other data to drive price negotiations. And, uniform skill enhancement for management to take on a mentorship role with the rest of the purchasing team to meet cost reduction plans for commodity purchases.
III.   Relationship Development
Issue: Customer's desire to stabilize a challenging relationship ("at each other's throats") with a service provider.
Services: Contract review, relationship assessment using the CaT™ survey, one day of negotiation training program for a 60 person team, one day facilitated negotiation session with leadership to re-set KPI's for the following year.
Outcome: Contract renewal complete two and one-half years after describing their relationship as "combative".
Let's set up a time to talk about the specific financial, operational and emotional upside to enhancing your team's negotiation skills.
Jeanette Nyden: jn@jnyden.com | 206-723-3472
"It was a great class with a lot of interaction and conversation. The procurement team learned some valuable pieces and in particular, it changed the way they thought about negotiation." Training Director, On-Line Retail Company