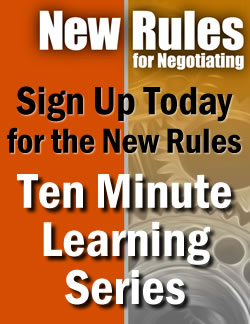 Customers and suppliers want relationships that perform effectively, profitably, and predictably. Often there is a direct correlation between clarity of contract terms and relationship performance. If it is up to you and your team to negotiate and document a coherent, cohesive contract, you're in the right place. So, let me ask you two questions.
Are you seeing greater contractual complexity and additional workload at your organization?
Contracting, purchasing and sales professionals are seeing fast-paced change in terms of greater contractual complexity, additional workload and confused priorities. I'm personally seeing these changes too.
Does your team have the skills to negotiate and document complex contractual arrangements?
It takes a different skill set to negotiate complex, interdependent customer/supplier relationships. Unfortunately, most negotiation skills training programs are not keeping pace with the increase in contract complexity. Many programs are too generic and out of touch with what it takes to negotiate complicated terms and conditions.
GET THE LATEST NEWS ON CONTRACT NEGOTIATIONS
Also you will get access to Articles, Industrial News, White Papers, Free Learning Sessions and YouTube Videos clips with great tips and techniques to negotiate stronger contracts!
Sign Up For Nyden On Negotiation Newsletter
My customized, tactical negotiation training and coaching programs are specifically designed for business people who negotiate complex customer/supplier agreements. By working with me, you can expect to see a more efficient contract negotiation process, increased clarity of contract terms, and enhanced negotiation skills.
"Jeanette Nyden conducted negotiating seminars for two of our business units. As a direct result of Ms. Nyden's program we are more effective in our pricing and terms negotiations. Our profitability demonstrates the benefit of our investment." R.B.L, retired CEO
I work with teams who negotiate a range of contracts from traditional transactions to performance based customer/supplier relationships. People who negotiate contracts need a variety of skills ranging from:
Designing an agreement using complex arrangements such as incentive payments, outcome based metrics and innovation committees to drive and manage change.
Drafting skills to accurately document and clarify the myriad of agreements made over the course of the negotiations so the legal department has a clear understanding of the deal points.
Facilitation and internal negotiation skills to corral internal stakeholders to agree on requirements, such as SOW's, SLA's, KPI's and governance structures.
Conflict resolution skills when the inevitable happens – something goes wrong and needs to be fixed.
"You gave me another ah-ha moment just like you do in every conversation I have with you." M. D., Senior Director and lead negotiator.
Visit my How I Can Help page to learn more or email me to set up a time to talk.
Jeanette Nyden: [javascript protected email address] | 206-723-3472