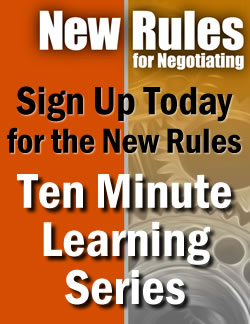 Training the Next Generation of Contract Negotiators
Sound Partnership Strategies optimizes key customer/supplier relationships by providing customized, tactical contract negotiation skills training and coaching.
Customers and suppliers want relationships that perform effectively, profitably, and predictably. Often there is a direct correlation between clarity of contract terms and relationship performance. If it is up to you and your team to negotiate and document a coherent, cohesive contract, you're in the right place. So, let me ask you two questions.
Are you seeing greater contractual complexity and additional workload at your organization?
Contracting professionals—both purchasing and sales—are seeing fast-paced change, greater contractual complexity, additional workload and confused priorities.
One year after training and coaching "The sourcing team is doing great and they helped the balance sheet this year. Because they are negotiating better pricing across all categories, they helped off-set a soft market for some of our products. We are super happy with their efforts."  Manager, Learning & Development, Aerospace Manufacturing
Does your team have the skills to negotiate and document complex contractual arrangements?
It takes an enhanced skill set to negotiate complex, interdependent customer/supplier relationships.
Contract Negotiations Skills Training Programs
My customized, tactical negotiation training and coaching programs are specifically designed for business people who negotiate complex customer/supplier agreements. By working with me, you can expect to see a more efficient contract negotiation process, increased clarity of contract terms, enhanced negotiation skills, and better customer/supplier relationships.
Want to sample a training session? Check out my free New Rules for Negotiating 10 Minute Learning Sessions.  You'll get 10 minute webinars, handouts and chapters from my training manual.
GET THE LATEST NEWS ON CONTRACT NEGOTIATIONS
Also you will get access to Articles, Industrial News, White Papers, Free Learning Sessions and YouTube Videos clips with great tips and techniques to negotiate stronger contracts!
Sign Up For Nyden On Negotiation Newsletter
"Jeanette Nyden conducted negotiating seminars for two of our business units. As a direct result of Ms. Nyden's program we are more effective in our pricing and terms negotiations. Our profitability demonstrates the benefit of our investment." R.B.L, (retired) CEO, global manufacturer.
Visit my How I Can Help page to learn more or email me to set up a time to talk.
Jeanette Nyden: jn@jnyden.com | 206-723-3472