The Benefits of Working with Nyden on Negotiation
We deliver proven results! Due to the confidential nature of our work and client privacy, names have been withheld. References are available upon request. Email me at
[email protected]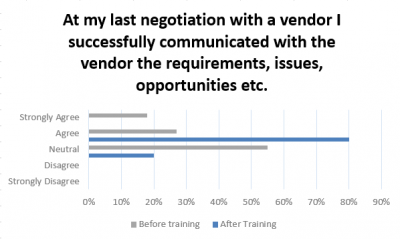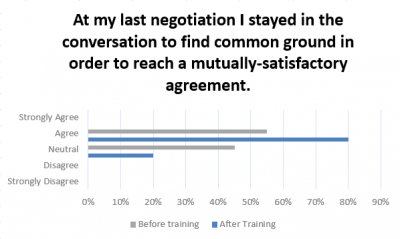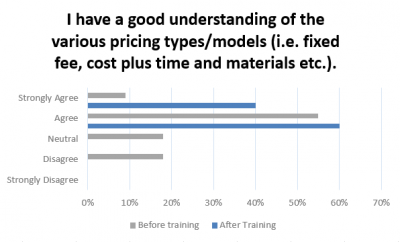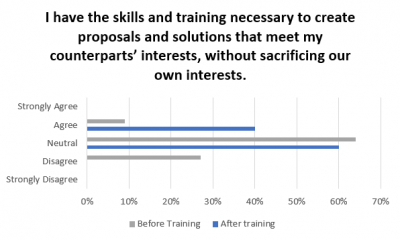 Periodic Skill Building– Ongoing 
Issue: Attrition of top talent and a relatively inexperienced contracting team (buy-side) who were asked to negotiate increasingly complex contracts.
Services: Comprehensive training program including: on-line negotiation skills assessment, needs assessment report, two days of in-person training, several web-based shorter "lunch and learn" training sessions, on-going one on one coaching and mentoring.
Outcomes: Increasing effectiveness to negotiate terms and conditions, metrics, and scorecards in complex goods and services contracts.
"This coaching session has been stellar! I've wanted someone to walk me through the arguments the supplier is making (to some terms in the contract) so I could give them a reasoned response to support our terms. Thank you."
Participant Title and Industry
Contract Administrator, Public Utility
Location
United States
Solution
Skill Building and Leadership Development in 3 Months 
Participant Title and Industry
Category Leads and Managers, Aerospace Tier II 
Location
United States, Europe 
Solution
"I really appreciate your efforts to build my team's skills. We knew there was a skills gap, and having you assess the team and train to the gap has made a big difference. As a direct result of your program, we are more effective in our pricing and terms negotiations. Our profitability demonstrates the benefit of our investment in your training."
II. Leadership Development
Issue: Centralization of the purchasing function to support category management, requiring "buyers" to dramatically enhance their negotiation skills.
Services: Comprehensive training program including: on-line negotiation skills assessment, needs assessment report, three days of in-person training, on-going one on one coaching for "buyers" and mentoring for the leadership team.
Outcomes: Increasing the use of Should Cost Analysis and Total Landed Cost Analysis and other data to drive price negotiations. And, uniform skill enhancement for management to take on a mentorship role with the rest of the purchasing team to meet cost reduction plans for commodity purchases. 
Customized Video Negotiation Playbook in 6 Months 
III. Playbook Development 
Issue: SaaS provider desire to use their template contract to streamline sales and provide uniform customer deliverables.
Services: Contract review, development of customized negotiation playbook on both commercial and legal terms, pre-and post knowledge check, demonstrations negotiating the terms with leadership and coaching sessions with role playing and Q&A with Jeanette Nyden.
Outcomes: ~80% utilization of SaaS provider template contract and reduced sales cycle timing from contract award to service implementation. 
"Jeanette trained everyone in the [sales] organization the same level of knowledge they need to know on contract negotiation. She was able to transfer the complexity of what legal and contract negotiation is to people that do not have this background.  She is an expert in her field, and delivered above what was expected."
Industry
Account Representatives SaaS 
Location
Europe 
Solution
 "You made me so much better in such a short amount of time." Supply Chain Negotiator
"Your work with our team was incredibly impactful and helped to decrease sales cycles and also decrease frustrations – thank you so much." Senior Account Executive,  SaaS
"I loved your training and have implemented some aspects into my work already. Thanks again!" Sales Representative
"Your training programs and coaching sessions quickly and dramatically enhanced the skills and confidence of new negotiators within our teams. Your coaching sessions are not yet finished, and we are already seeing positive results from the teams' negotiations.  Thank you." Supply Chain Manager
"We came to you like 'we need help now!!' We appreciated that you have the intellectual property to train us right away. You are passionate about negotiations, and it comes across on the screen. We wanted somebody who's really energetic and is going to keep her students engaged and interested in what she's saying. That was really important." Supply Chain Director, Health and Sciences Company.
COMPLEX KNOWLEDGE, SIMPLIFIED
"I love speaking/working with you because of your ability to simplify and explain a complex situation with relatable descriptions. You keep my pencil sharp." Supervisor, Procurement
"It was a great class with a lot of interaction and conversation. The procurement team changed the way they think about negotiation." Training Director, On-line Retail
"Jeanette trained everyone in the [sales] organization the same level of knowledge they need to know on contract negotiation. She was able to transfer the complexity of what legal and contract negotiation is to people that do not have this background.  She is an expert in her field, and delivered above what was expected." Go To Market Strategist, SaaS Company
"I just wanted to tell I definitely had some "Aha!" moments in your class yesterday and will take those learnings with me going forward." Training Participant
"This coaching session has been stellar! I've wanted someone to walk me through the arguments the supplier is making (to some terms in the contract) so I could give them a reasoned response to support our terms. Thank you." Contract Administrator
"Jeanette asks pointed questions that reinforce your learning, and offers templates that will help you align your objectives. […] The Contract Professional's Playbook training is well worth the investment and highly recommended." Global IT Commercial Manager
"Over a two-day period you trained over 50 members of our staff – both buyers and salespeople, technical and non-technical. What I expected for this training was someone who could provide our staff with basic negotiation skills. What you delivered was totally tailored to our business with a clear understanding of our challenges." Director, Manufacturer
"Thank you. I appreciate knowing where our customers are coming from when we are negotiating terms and conditions. I feel more confident to negotiate these items and not escalate to the V.P. of Sales all the time." Sales Representative, Manufacturing
"Your training programs and coaching sessions quickly and dramatically enhanced the skills and confidence of new negotiators within our teams. Your coaching sessions are not yet finished, and we are already seeing positive results from the teams' negotiations.  Thank you." Supply Chain Manager
"I love the quality of your tailored training programs. You have a really interesting background from the legal and contracting perspective that you bring to your work. If there is anything related to negotiating contracts, you are my go-to person. I don't think of anyone else."  Owner, Procurement Services
"Jeanette is passionate about her work and has insights that other people don't have. Plus, she actually knows how to train people to negotiate complex contracts."  Supply Chain Manager 
"I needed relevant negotiation coaching – someone who understands that I am not selling a car. I am building and maintaining relationships that last for years and years. They are complex and nuanced and typical training just doesn't fit with what I face each day. Thanks again." Account Director, Pharma
 "At IAOP (International Association of Outsourcing Professionals), we have found one of the best ways to navigate the increasing complexities is through training, education, and professional certification. That is why The Contract Professional's Playbook: The Definitive Guide to Maximizing Value through Mastery of Performance- and Outcome-Based Contracting and eLearning program is so valuable, timely, and essential. Arming yourself with the latest knowledge and expertise from the authors on drafting, negotiating, and managing performance- and outcome-based contracts will give you a competitive edge." Debi Hamill
CEO, IAOP
"I really appreciate your efforts to build my team's skills. We knew there was a skills gap, and having you assess the team and train to the gap has made a big difference.As a direct result of your program, we are more effective in our pricing and terms negotiations. Our profitability demonstrates the benefit of our investment in your training." CPO, Manufacturer CEO, IAOP
"Your help was extremely valuable to our negotiation process. You coached us on and through a process that we were not familiar with and helped establish credibility with our customers. You gave us confidence that that we could deal with them on even terms. Because you helped us to be prepared, there's no doubt that we got the best deal for our company." CEO, software company
"I am a better partner to the business and to legal now. I am able to provide better information to the legal department and help speed up the (contract) review process when the supplier has changes or exceptions to the standard terms." Contract Specialist
"When I apply her insights, my colleagues fully get on board. I'll always have respect and trust for Jeanette's knowledge transfer." Manager, Commercial and Contracts